From the article "Celebrate your Graduate"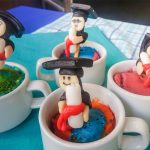 Graduation Mug Cake
Ingredients
2

tablespoons

oil

1/2

cup

water

1

pack

MAYA Original Hotcake Mix 200g

Marshmallow Fondant

450

grams

mini white marshmallows

3

tablespoon

water

700

grams

confectioners' sugar

sifted

1/2

cup

shortening

1

pack

Peppero Almond Sticks
Instructions
Prepare the mug cake:
Prepare mug of choice.

Beat egg slightly in a bowl. Add in oil, water and hotcake mix. Stir just until slightly lumpy (Do not overmix).

Divide batter into separate custard cups and color as desired.

Transfer in piping bags or squeezer bottles.

Fill half of the mug with colored batter mixture. Decorate as desired.

Cook in the microwave oven for 30 seconds, with 10 second intervals on a medium power setting.

Check doneness of the center using a barbecue stick. Allow to cool.
Prepare marshmallow fondant:
Put marshmallows into a thick glass bowl. Add water. Microwave at medium high for about 2 minutes, stopping and stirring at 1 minute interval until smooth in consistency.

Take the bowl out of the microwave and let it cool a little.

Mix in shortening and confectioner's sugar alternately until it leaves the bowl.

Transfer your fondant to your greased work surface and gradually add the remaining sugar if the fondant seems too soft. Knead until it is no longer sticky.

Shape into a mound and coat lightly with shortening. Wrap tightly with cling wrap and place in a ziplock bag.

Rest for at least 12 hours.

Color using black, red, copper, pink and blue food gels. Set aside a portion of the white fondant.

Cut flesh colored fondant into round shapes and mold other fondants of the same color into arms.

Mold black fondants into graduation toga.

Cut white fondant into small squares and roll up like a scroll.

Cut thin strips of the red fondant and tie around the scroll. Use a tylose dissolved in warm water to stick the two fondants together.

Cover almond sticks with black fondant. This will serve as the body. Using tylose, attach the head and the hat, let it dry. Next is the arms and the diploma. 13. Poke the topper in the cake. Let it stand.

Have fun decorating!