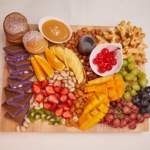 Fruit and Nut Hotcake Board
Ingredients
1

pack MAYA Original Hotcake Mix Fluffy n' Tasty 200g

prepared as ube cream cheese hotcakes (you can insert a link of the ube cream cheese hot cakes)

1

pack MAYA Complete Hotcake Mix Quick n' Easy 200g

1

pack MAYA ThinkHeart Whole Wheat Pancake 200g

Fresh grapes

as needed

Fresh mango

as needed

Fresh strawberries

as needed

Fresh kiwi

as needed

Fresh banana

as needed

Fresh orange

as needed

Toasted almonds

as needed

Pistachios

as needed

Toasted hazelnuts

as needed

Chocolate sauce & peanut butter sauce

as needed
Instructions
Mix hotcake batter according to package instructions, pour about 2 tablespoons of batter on a preheated, lightly greased pan. Cook until bubbly, flip to cook the other side. Set aside.

You may also use a waffle iron, pour 2 tablespoons of hotcake batter on a greased, preheated waffle iron. Cook until light brown. Set aside.

Arrange all food items on a clean and dry wooden board.

Serve immediately.
Recipe Notes
Yield: 10-12 servings
Prep time: 30 minutes
Cook time: 25 minutes