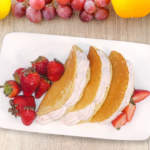 Folded Hotcakes With Strawberry Cream Filling
Ingredients
For Hotcakes:
3

pieces

eggs

1

cup

milk

4

tablespoons

oil

1

pack MAYA Fluffy n' Tasty Original Hotcake Mix 200grams
For Filling:
2

cups

whipping cream

½

cup

strawberry jam

fresh strawberries for toppings
Instructions
In a bowl, combine eggs, milk, and oil. Mix well.

Sift hotcake mix and add to the egg mixture. Mix well.

Heat a non-stick frying pan brushed with cooking oil, over a medium heat.

Pour 1/4 cup of the hotcake batter onto pre-heated pan.

Cook until bubbly then turn to cook the other side.

Using a cooling rack or a taco shell molder, fold the cooked hotcake to form a taco like shape, let it cool down inside the refrigerator for about 10 to 15 minutes to retain the taco shell shape.

While cooling down the folded hotcakes, for filling: Whip the whipping cream using a mixer, until it forms stiff peak. Add strawberry jam and whip again using the mixer, until well blended.

Using a piping bag, pipe the strawberry cream filling between the folded hotcakes, as desired. Top with fresh strawberries and serve.