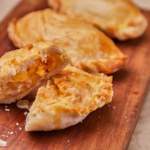 Flaky Empanada
Ingredients
Pastry:
2

cups

MAYA All-Purpose Flour

cup

¼ sugar

1

teaspoon

salt

1/3

cup

shortening

cup

½ water
Paste:
1

cup

MAYA All-Purpose Flour

1/3

cup

shortening
Filling:
2

tablespoons

butter

1/4

cup

MAYA All-Purpose Flour

1/2

cup

fresh milk

1/2

cup

grated cheese

5

slices

square ham

cut into small size

salt and pepper

to taste
Instructions
Preheat oven to 350⁰F/177⁰C. Grease and line a baking pan.

In a bowl, stir together the flour, sugar and salt. Cut in the shortening until mixture is mealy.

Add enough water to form a ball of dough. Roll out to a 10 x 14-inch rectangle.

In a sauce pot, blend flour and shortening over a low heat until it forms a paste

Spread the paste at the center of the dough, then fold over the 2 edges of the dough to cover the paste. Seal the edges.

Rest dough for 5 minutes. Roll out to flatten dough then fold again into 3rds. Rest again and repeat the procedure twice more. Chill the dough if needed.

Prepare the Filling: Melt butter in a sauce pot and add all-purpose flour. Mix until the flour is cooked, then add milk. Mix well until it thickens, then add the cheese and ham. Season salt and pepper to taste.

Remove sauce pot from the heat and let the cheese mixture to cool down.

Assemble: Roll up the dough like a jelly roll. Cut into 20-24 pieces. Roll out each piece, cut side up to a 2-inch circle.

Put a tablespoon of filling at the center. Fold dough to make a half moon shape and crimp.

Bake the empanada for 20 to 25 minutes or until golden brown.

Take out the empanada from the oven and serve.
Recipe Notes
Yield: 8 servings