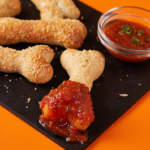 Dog Bone Breadsticks
Ingredients
1

cup

warm water

1

teaspoons

½ instant dry yeast

2

tablespoons

white sugar

cup

¼ melted butter

1

teaspoons

½ salt

3

cups

to 3½ LFM Bread Flour

1

tablespoon

italian seasoning

1

piece

egg yolk

2

tablespoon

fresh milk

beaten egg white

parmesan cheese
Instructions
Pre-heat the oven to 400°F/205°C. Grease and line 2 baking sheets. Set aside.

In a bowl, combine the water, yeast, sugar. Set aside until the mixture begins to bubble.

In a separate bowl, mix butter, salt and 2 cups of flour. Then add the yeast mixture and mix it well until it forms a dough. Place the dough on a flat surface and knead, slowly add the 1 cup of flour, knead continuously until the dough becomes smooth and elastic. Add in a little amount of flour if the dough is too wet and sticky.

Place the dough in a lightly oiled bowl and cover with a towel or cling wrap. Keep in a warm dry place for 30 minutes or until it doubles in size.

Punch down the dough and divide into 24 pieces. Roll out each piece and split both ends of the dough and shape it like a dog bone.

Place on the baking sheets. Bake for 20-25 minutes until golden brown. Mix egg yolk and milk in a small bowl to make an egg wash and brush the dog bone breadsticks in the middle of its baking time. After 5 minutes, brush the top if the breadsticks with beaten egg white and sprinkle with grated parmesan cheese and continue baking until dog bone breadsticks turn golden brown.

While hot brush the bread with olive oil and sprinkle with parmesan cheese.

Best served with marinara sauce.
Recipe Notes
Yield: 24 pieces