Missing those fudgy, decadent café and resto sweets? Give in to your cravings and make a cake that's as amazing as those served in your favorite dining spots!⠀
⠀
Indulge in a chocolate cake kissed with tasty caramel by trying out our Salted Caramel Chocolate Cake made with our MAYA Decadence Devil's Food Cake Mix.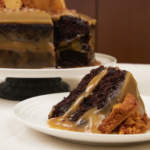 Decadent Salted Caramel Fudge Layered Chocolate Cake w Caramel Crunch
Ingredients
Cake
1

package MAYA Decadence Devil's Food Cake Mix 550g

¼

cup

vegetable oil

1

cup

water or milk

2

pieces

whole eggs
Caramel Fudge Icing
¾

cup

sugar

¼

cup

MAYA All Purpose Flour

¾

cup

water

¾

cup

evaporated milk

¼

cup

salted butter

1

teaspoon

pink Himalayan salt

1

teaspoon

vanilla extract
Caramel Crunch
1 ½

cups

sugar

½

cup

water

1

tablespoon

baking soda
Instructions
Preheat oven to 350°F/177°C. Grease and line the bottom of two 8 x 3 inch round pans and a baking sheet. Set aside.

Prepare cake by combining the cake mix, oil, water and eggs in a bowl. Beat until well blended.

Pour the mixture equally on both prepared pans and bake for 30 minutes or until toothpick inserted at the center comes out clean. Set aside to cool.

To make caramel fudge icing, mix the salt, flour, water and milk together until no more lumps of flour and mixture becomes smooth and well blended. Set aside.

Caramelize the sugar in a heavy bottom pan over medium to low heat until golden brown without stirring.

Once the sugar caramelizes, pour and strain over the flour milk mixture and continue mixing. Cook over low fire until thick and coats the back of the spoon.

Add salted butter and vanilla extract. Mix until well incorporated then turn off heat. Set aside for later use.

To make a caramel crunch, combine sugar and water in a heavy bottom pan and bring the mixture to a boil and cook until sugar dissolves. Continue boiling until syrup reaches a soft crack stage (around 280° to 290°F) and turns golden brown. Remove from heat and let the bubbles subside then stir in the baking soda and stir continuously with a wooden spoon. Pour over into prepared baking sheet and let it cool to harden. Once cooled, break into big pieces or use a rolling pin to crush the caramel into smaller pieces. Set aside the crushed or broken caramel crunch.

To assemble the cake, place I layer of cake in a cake dish and put some caramel fudge icing on top and spread evenly. Top with the 2nd layer of cake and do the same procedure by topping it with enough caramel icing and spreading some of it on the sides of the cake too. Garnish top with crushed caramel crunch and sprinkle with pink Himalayan salt.
Recipe Notes
Yield: 8 – 10 servings
NOTE:
Before assembling the cake you may want to spread simple syrup to the cake to make it moist.
Better to pour over the caramel fudge icing on the cake while it still hot and warm.