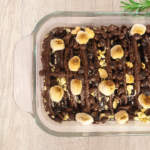 Chocolate Mallow Hotcake Pudding
Ingredients
Hotcake:
2

pieces

eggs

1/4

cup

oil

1 ¼

cup

milk

1

pack MAYA Chocolate Hotcake Mix 500g
Pudding:
1

cup

milk

1

cup

all-purpose cream

4

pieces

eggs

1/2

cup

sugar

1 ½

teaspoon

vanilla

3/4

cup

chocolate chips

1

cup

marshmallows

mini
Instructions
For Hotcake: In a bowl, mix eggs, oil and milk. Mix well.
Add Maya Chocolate Hotcake Mix and mix well.

Pour ¼ cup hotcake mixture in a preheated, lightly greased pan.

Cook until bubbly, then flip to cook the other side. Set aside.
For the Pudding Mixture: In a microwavable bowl, mix milk and cream well (this is what you call half and half) and heat it in a microwave for 45 to 50 seconds, remove the bowl from the microwave and add ¼ cup of chocolate chips, mix well until chocolates are melted and well incorporated to the half and half mixture.
Add eggs, sugar and vanilla to the half and half mixture. mix well. Set aside.

Cut hotcake into half and arrange, flat side down, in rows in an 8 ½ - inch loaf pan.

Fill the in between of each hotcake with the remaining ½ cup chocolate chips and sprinkle the remaining chips on top. Fill the in between of the hotcake with the ½ measurement of the marshmallows.

Pour the egg mixture over the arranged hotcakes and chill for at least 4 hours or overnight.

Preheat oven to 350⁰F/177⁰C. Bake the soaked hotcakes for 35 to 40 minutes or until puffed and set. Sprinkle the remaining marshmallows on top of the hotcake pudding and put the hotcake pudding back to the oven for 3 to 5 minutes or until the marshmallows turns light brown. Remove the hotcake pudding from the oven and let it stand for 10 minutes.

Drizzle with chocolate syrup, as desired and serve.
Recipe Notes
Makes 4 to 5 servings.