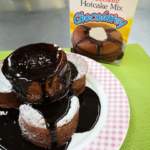 Chocolate Hotcake Souffle
Ingredients
1

pack MAYAChocolate Hotcake Mix 200g

1

piece

whole egg

1

piece

egg yolk

¼

cup

water

2

tablespoons

vegetable oil

6

pieces

egg whites

2

tablespoons

white sugar

½

teaspoon

cream of tartar

powdered sugar

for dusting

maple or chocolate syrup

for drizzling
Instructions
In a bowl, using a handheld mixer, combine hotcake mix, whole egg, egg yolk, water and oil. Mix until slightly airy. Set aside.

In a separate bowl, whisk using a clean and dry handheld mixer, whisk egg whites until frothy. Gradually add cream of tartar and sugar. Continue whipping egg whites until stiff peaks form.

Fold in whipped egg whites into hotcake batter in 2-3 additions. Mix gently just until combined. Do not overmix or it will deflate the batter.

Lightly grease a deep-frying pan with cover, and preheat it over medium low heat, Lightly grease the inside of a metal ring mold and place it inside the pan.

Pour hotcake batter inside the ring mold filling it half way. Pour 2 to 3 tablespoons of water in the pan to create a steam. This will help you cook the hotcake souffle.

Cover the pan and cook the hotcake souffle for 5 to 7 minutes per side or when the top portion is almost cooked and lightly firm when you move the mold. Using a turner or metal spatula carefully flip to cook the other side. Cook for another 4 to 5 minutes.

Place the hotcake souffle on a plate and gently push the top to remove hotcake from the mold. Repeat the cooking procedure until all the hotcake souffle batter is consumed.

Dust the Chocolate Hotcake Souffle with powdered sugar and drizzle with maple or chocolate syrup of your choice, then serve.
Recipe Notes
Yield: 4 to 5 pieces Hotcake Souffle
Prep time: 15 to 20 minutes
Cooking time: 30 to 35 minutes