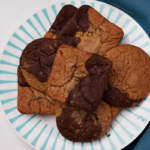 Chocolate Brookies
Ingredients
cup

½ unsalted butter softened

2

pieces

eggs

1

pack MAYA Chocolate Fudge Brownie Mix 500g

cup

½ dark chocolate chips

cup

½ unsalted butter softened

2

pieces

eggs

1

pack MAYA Butterscotch Brownie Mix 500g

1

cup

dark chocolate chips
Instructions
Preheat oven to 350F/177C. Grease a 12-hole square pan. Set aside.

In a bowl, stir butter, eggs, Fudge Brownie Mix until well blended.

Fold in ½ cup of chocolate chips. Divide the batter in three pans.

Repeat steps 2 and 3 with the Butterscotch Brownie Mix.

Scoop a chocolate brownie mixture into the holes and then scoop the butterscotch mixture beside the chocolate brownie dough to make brookies.

Bake brownies for 20-25 minutes or until baked. Loosen from the pans and let the brownies cool.

Serve.
Recipe Notes
Yield: 24 pieces