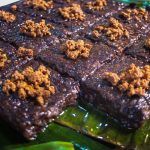 Choco Biko
Ingredients
1

pack

MAYA Champorado Mix 227g

4

cups

coconut milk

1/3

cup

coconut oil

from latik

1/4

cup

sugar
Instructions
For Latik:
Heat coconut milk in a pan and let it simmer until the oil seperates from the mixture (solid part is the Latik).

Pour off the excess oil, which can be used for the biko sugar-oil mixture.

Continue cooking until slightly brown. Quickly remove from heat to prevent latik from burning.

Strain the latik and use it as a biko topping.
For Biko:
To make the biko, put champorado mix and coconut milk in a stock pot, Let it simmer and continuously stir until the liquid evaporates. Transfer to a bowl and set aside.

In the same pot, put the oil from the latik and add the sugar. Let the sugar melt and then add the biko. Mix in the oil to the biko until it absorbs some of the sugar-oil mixture.

Place the biko in a serving container or serving pan lined with banana leaves.

Serve with latik on top.