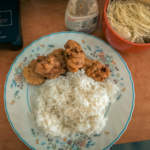 Chicken Karaage
Ingredients
4-5

pieces

chicken thigh fillet

cut into bite size or nugget size

Marinade

½

teaspoon

salt

½

teaspoon

ground pepper

2

tablespoons

sugar

5

cloves

garlic

minced

1

tablespoon

sake

optional

2-3

tablespoons

soy sauce

2

tablespoons

sesame oil
Batter for frying
3

tablespoons

MAYA All-Purpose Flour

¼

cup

MAYA Cornstarch

pinch

of salt and pepper to taste

⅓

cup

ice cold water

1

tablespoon

sesame oil

1

cup

MAYA All-Purpose Flour

for dredging the cut chicken fillet

oil for deep frying
Instructions
Put bite-size chicken thigh fillet in a clean bowl, set aside.

Place all the marinade ingredients in one small bowl and continue stirring until sugar dissolves.

Pour in the marinade into the bite-size chicken fillets and gently massage chicken until the chicken is fully covered with marinade. Marinate chicken for 3 to 4 hours. (For better tasting chicken, marinate it overnight.)

Transfer marinated chicken in a colander to remove excess marinade liquid. Set aside.

In a separate bowl, mix flour, cornstarch, salt, pepper, ice cold water and sesame oil. Mix well until no lumps. (If the batter mixture is too thick, add 1 tablespoon of iced cold water at a time until you reach the desired batter consistency).

Preheat oil in a medium-sized pot, over medium heat.

Dredge the drained marinated chicken with flour and gently tap the chicken to remove the excess flour. Repeat procedure until all chicken pieces are fully cover with flour.

Dip the dredged chicken on the prepared batter mix and quickly fry it onto the preheated oil. Fry until lightly brown, repeat procedure until all the chicken karaage is fried. (Fry in batches and don't over crowd the pot to maintain the proper temperature of the oil)

Increase the heat of the oil and re-fry again the chicken karaage to make it crispier and cook until golden brown. Transfer the re-fried chicken karaage into a serving platter with paper towel to remove excess oil.

Best serve hot and crispy with Japanese mayonnaise(optional) and cabbage slaw(optional) on the side.
Recipe Notes
Yield: 2 to 3 servings
Prep time: 15 to 20 mins.
Marinating time: 3 to 4 hours
Cooking time 35 to 40 minutes (depending on the number of chicken pieces)