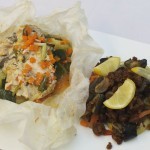 Chicken en Papillote with Spiced Whole Wheat Grits Pancake
Ingredients
For the Spiced Whole Wheat Grits
1

package

MAYA Whole Wheat Pancake Mix, 200g
¼

cup

water or chicken broth

1

piece

egg

2

tablespoons

extra virgin oil

½

teaspoon

paprika powder

1/2

teaspoon

turmeric powder

50

grams

small red onion

sliced thinly

50

grams

eggplant

diced

50

grams

fresh tomatoes

diced

½

piece

lemon

sliced

2

tablespoons

olive oil
For the Chicken
2

pieces

chicken breast fillet

30

grams

carrots

diced

30

grams

leeks

cut into 1/8 inch stalks

50

grams

zucchini

quartered

1

teaspoon

orange zest

1

teaspoon

dried tarraggon
Instructions
In a skillet, heat oil then add onions and cook over medium heat for 3 minutes or until the onion is transluscent.

Add the eggplant and cook for 4 minutes until the it begins to brown.

Add the tomatoes, salt and pepper and. spiced whole wheat grits.

Simmer for 10 minutes.

Heat oven to 400 F.

Cut parchment paper, big enough to enclose and seal the chicken.

Sprinkle the chicken breast with salt and pepper.

Combine the leeks, carrot, zuchinni, tarragon and orange zest.

Spoon the vegetable mixture over the each chicken breast.

Bake for 20-25 minutes on a baking in a baking pan to serve.

Cut an across the top of each packet with scissors and tear to open.