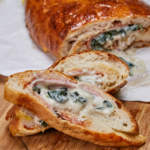 Cheesy Spinach Stromboli
Ingredients
For the dough:
1 ¼

cups

milk

warm

1 ½

teaspoons

salt

2

tablespoons

honey

1/4

teaspoon

garlic powder

1/4

teaspoon

onion powder

1 ¾

cups

+ 2 tablsepoons MAYA All-Purpose Flour

1/2

cups

MAYA Cake Flour

1 ¼

teaspoons

yeast

1/4

cup

olive oil
For the cheesy spinach filling:
1

tablespoon

oil

¼

cup

butter

1

piece

medium-sized onions

minced

2

cups

spinach

blanched and excess water squeezed

1/4

cup

flour

1

cup

milk

1/4

cup

cheddar cheese

grated

1/4

cup

cream cheese

1/2

cup

mozzarella

1/4

cup

cream
For the pizza filling:
3/4

cup

pizza sauce

4 to 5

pieces

Ham

15

pieces

Pepperoni

12

slices

bacon

Mozzarella cheese

grated
Instructions
Preheat oven for 375⁰F/190⁰C.

Prepare dough: Mix milk, honey and yeast in a small container and set aside for 1 to 2 minutes.

Mix salt, garlic powder, onion powder, and flour in a mixing bowl. Using a stand mixer, mix the flour mixture and milk mixture on medium speed for 8 minutes, then add the oil and mix again for another 5 to 7 minutes.

Place the dough in a bowl brushed with oil and let it rise for 20 to 30 minutes.

While waiting for the dough to rise. Prepare cheesy spinach filling: Melt butter in oil, over medium heat, sauté onions, add spinach.

Add flour and let it cooked, then add milk and let it simmer with continuous stirring, until it thickens.

Add the cheeses and continue stirring until well blended. Turn off the heat and add the cream. Season with salt and pepper. Set aside and let it cool.

Assemble: After letting the dough rise, place it in a pan, greased and lined with parchment paper.

Using just your fingers, spread out the dough into a rectangular shape, then lined up ham, pepperoni and bacon.

Place cheesy spinach on top of the meats, then sprinkle mozzarella on top of the cheesy spinach.

Then, roll-up the dough and seal seam and ends. Bake for 20 minutes, then brush the Stromboli with egg wash and bake again for another 5 to 10 minutes or until the surface is golden brown.

Take-out Stromboli from the oven and let it cool, the slice it onto desired thickness and serve.