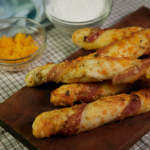 Cheesy Bacon Breadsticks
Ingredients
2

tablespoons

instant dry yeast

1

cup

½ warm water

tablespoons

½ sugar

4

cups

½ - 5 MAYA All-Purpose Flour

2

teaspoons

fine iodized salt

2

tablespoons

olive oil

1

pack bacon strips

1

cup

Parmesan cheese

1

cup

sharp cheddar cheese

1

teaspoon

ground black pepper

cup

½ melted butter

1

teaspoon

minced garlic

1

teaspoon

finely chopped parsley

salt and pepper

to taste
Instructions
Place an oven-safe cooling rack on a baking sheet. Set aside.

Add yeast to warm water, then sugar, stir to hydrate the yeast. Let this sit for a few minutes for the yeast to bloom.

In a mixer bowl with the dough hook attachment, mix together flour and salt.

Carefully pour the yeast mixture and oil onto the mixer bowl. Turn on the mixer to low-medium speed. Knead the dough for 10-20 minutes.

Once the dough forms a ball and clings to the hook, remove from the bowl. Knead by hand for at least 5 minutes then shape it into a ball.

Place the dough on a greased bowl and cover with cling wrap. Let the dough rise for 1 ½ hours or until it doubles in size.

Unwrap the bowl and punch the dough to deflate it. Weigh portions of the dough, about 30-40 grams.

Roll out the dough and form a rectangle. Sprinkle about ½ teaspoon of parmesan and ½ teaspoon of cheddar cheese, roll the dough to form a log, then pinch the seam to secure the cheese. Repeat with the other portions of dough.

Place leftover cheese and ground black pepper in a wide plate. Roll the logs of dough on the cheese.

Wrap the breadsticks with bacon strips. Bake in the preheated oven (375F/191C) for 15-20 minutes.

Mix the melted butter, garlic and parsley in a small bowl.

Remove the breadsticks from the oven. Brush lightly with melted butter mixture.

Serve.
Recipe Notes
Yield: 15 breadsticks