National Heroes Day is coming up this August 29, and there's no better way to celebrate than with a special thanksgiving meal to honor the selfless acts of bravery carried out for the love of our country. And what makes any meal super special? Why dessert of course!
Here are our five favorite Pinoy sweets that are sure to highlight our patriotic spirit.
Leche Flan
We have to say it's almost impossible to pass up a second helping of a well-made leche flan. That sweet, creamy goodness is something we Pinoys can never get enough of.
This simple custard with a layer of golden caramel is a magical combination of eggs, condensed and evaporated milk, and lots of sugar! We Pinoys usually put ours in a tin mold and getting the flan to hold its shape is almost an art form.
Leche Flan is enjoyed all over the world. They call it creme caramel in France, purin in Japan, and pudim de leite condensado in Brazil. We inherited our love for leche flan from the Spanish, which they call flan de leche.
Halo Halo
The frozen goodness of Halo-Halo (or haluhalo, which roughly translates to "mixed together") is a hallmark of any Pinoy childhood.
The shaved ice and evaporated milk makes this the ideal cool, sweet merienda treat that's enjoyed during hot afternoons.
As its name suggests, the typical Halo Halo contains a variety of ingredients that includes nata de coco, pinipig, sago, macapuno, langka, kaong, sago, and red mungo. Some opt to add cubes of leche flan and for that extra-decadent twist: a scoop of ube ice cream. Yum!
Pichi Pichi
Pichi Pichi originates in the province of Quezon and is something we Pinoys enjoy during salu salos or family reunions.
Cassava is wonderfully combined with sugar, pandan leaves, and lihiya (or lye water) to make these flavorful little cakes, which are topped with a generous sprinkling of shredded coconut.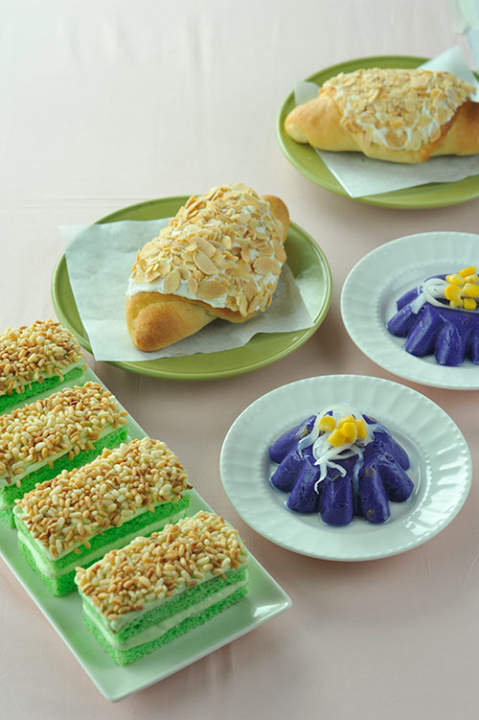 Visit The Maya Kitchen and New Gen Baker for more Filipino recipes to make your next celebration simply delicious!
Halayang Ube
This writer associates this dish with childhood vacations spent in Baguio, famous for this purple-colored delicacy.
This jam-like dessert consists of ube (purple yams), evaporated and condensed milk, coconut milk, butter, and white and/or brown sugar.
Some people like to top it with latik (coconut flakes), although we recommend just eating it right off the plate or straight from the store-bought jar with a spoon.
Maja Blanca
This gelatinous dessert is another delicacy we inherited from the Spanish. Made mostly from coconut milk, it's light, creamy and subtly sweet, usually served during Noche Buena or fiesta time.
Maya Cornstarch, sugar, milk, and latik make this elegant dessert topped with corn kernels stand out from the already colorful Pinoy table.
These five Filipino dessert favorites will certainly be the heroes of any celebration and are a perfect reminder of the richness of our culture and heritage. Enjoy these treats as we celebrate 'Araw ng mga Bayani' this August!