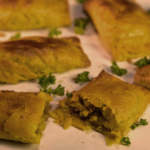 Caribbean Beef Pocket Pies
Ingredients
Pastry:
2

cups

MAYA All-Purpose Flour

2

tablespoons

sugar

1

teaspoon

salt

1

teaspoon

curry powder

1/3

cup

shortening

½

cup

water
Paste:
¾

cup

MAYA All-Purpose Flour

1/3

cup

shortening
Filling:
2

tablespoons

oil

2

tablespoons

butter

¼

kilo ground beef

lean

1

teaspoon

curry powder

½

teaspoon

turmeric powder

2

tablespoons

onion

chopped

¼

cup

bread flour

3

tablespoons

beef stock
Instructions
In a bowl, stir together the flour, sugar, salt, and curry powder. Cut in the shortening until mixture is mealy. Add enough water to form a ball of dough. Roll out to a 10x14 inch rectangle. Blend flour and shortening for paste and spread at the center of the dough.

Fold over the 2 edges of the dough to cover the paste. Seal the edges. Rest dough for 5 minutes. Roll out to flatten dough then make 3 folds. Rest again and repeat the procedure twice. Chill the dough if needed.

Prepare filling in a sautéing pan. Heat up oil and sauté ground beef until browned. Add in onions and continue sautéing until they're soft. Add in curry powder, turmeric powder, flour, and mix well. Pour in beef stock then season with salt and pepper. Set aside to cool.

To make pies: roll out the pastry up to ¼ inch thick and cut into 5-inch squares. Put about a tablespoon of filling on each rectangle. Fold the dough to make a rectangular pocket pie. Seal the edges with the trines of a fork.

Place pies in a greased and lined baking sheet. Bake in a preheated 350°F/177°C oven for 20-25 minutes or until golden brown. Serve.
Recipe Notes
Yield: 3-4 servings