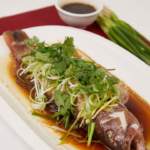 Cantonese Steamed Fish
Ingredients
1

500-600 grams

fresh whole "Lapu-lapu"

red or black grouper, cleaned

1-2

teaspoons

salt to taste

4

slices

fresh ginger

thinly sliced

2

tablespoons

sesame oil or peanut oil

steamed hot juice from the steamed fish

2-3

tablespoons

oyster sauce

2

tablespoons

rice wine

3

tablespoons

light soy sauce

2-3

teaspoons

brown sugar

dash of pepper

¼

cup

ginger

cut into strips

¼

cup

boiling sesame or peanut oil

¼

cup

spring onions

cut into 1-inch size

2-3

stalks

leeks (thinly strips or slivered

soaked in iced water to curl up and drained

1/3

cup

chopped fresh coriander leaves
Instructions
Season the fish with salt and lay flat on a Chinese oval ceramic serving platter that has 2 slices of ginger then put the remaining slices of ginger on top of the fish then drizzle the whole body of fish with sesame oil.

Place the platter with seasoned fish on a wide wok with the lid, so it can accommodate the whole platter while steaming the fish for 5- 8 minutes. After steaming, remove the steaming juice and set aside.

Combine together in a small saucepan the steam hot juice, oyster sauce, rice wine, light soy sauce, sugar, pepper and half of the ginger strips. Heat up and set aside.

Heat up oil in the other saucepan, until very, very hot while heating both the sauce and oil from the different sauce pans. Place on top of the steamed whole fish the remaining ginger strips, spring onions, leeks and coriander leaves.

Slowly pour the very hot oil on top of the fish to quickly seared the fish with aromatics and to make the whole steamed fish extra fragrant.

Pour the hot soy and oyster mixture on the side of the steamed fish.

Best served, steaming hot.
Recipe Notes
Yield: 4-6 servings
Prep Time: 15-20 minutes
Cook Time: 15-20 minutes