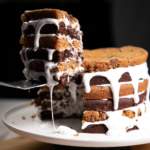 Brownie Layered Cake
Ingredients
cup

½ butter

softened

2

pieces

eggs

1

pack MAYA Chocolate Fudge Brownie Mix 500g

1

cup

white chocolate chips

cup

½ butter

softened

2

pieces

eggs

1

pack MAYA Butterscotch Brownie Mix 500g

1

cup

dark chocolate chips

2

jars marshmallow fluff

prepared or store bought
Instructions
Preheat oven to 350F/177C. Grease and line six 8-inch round pans. Set aside.

In a bowl, stir butter, eggs, Fudge Brownie Mix until well blended.

Fold in ½ cup of white chocolate chips. Divide the batter in three pans. Top with the remaining half of white chocolate chips and lightly press to embed in the batter mixture.

Repeat steps 2 and 3 with the Butterscotch Brownie Mix.

Bake brownies for 20-25 minutes or until baked. Loosen from the pans and let the brownies cool.

In a cake stand, flat plate or cake board place a small amount of marshmallow fluff in the middle to make the first layer of brownie stable and stick to the stand.

Layer Chocolate Fudge Brownies and Butterscotch Brownies alternately with a filling of prepared marshmallow fluff.

Serve.
Recipe Notes
Yield: 8 servings