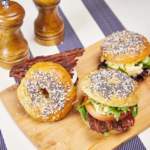 Breakfast Bagels
Ingredients
For Bagels:
1

tablespoon

yeast

1

cup

water

3

tablespoons

honey

1/2

tablespoon

salt

3

cups

MAYA All-Purpose Flour

6

cups

water

1

tablespoon

sugar

1

tablespoon

baking soda

1

piece

egg yolk + 1 tablespoon water

Poppy seeds or black sesame seeds
For Bagel Sandwich:
1/2

cup

mayonnaise

Assorted greens

2 to 3

slices

bacon

cooked

2

slices

large tomato

1

piece

poached egg

2

tablespoons

tomato catsup
Instructions
Dissolve yeast in ½ cup water. Put the remaining water in a bowl, then stir in sugar and salt.

Add in flour and beat well to make a smooth batter.

Add in dissolved yeast.

Add enough flour until dough separates from the sides of the bowl.

Transfer dough into a floured surface and knead until smooth and elastic. Put dough in a greased bowl, cover, and let it rise until double in bulk.

Punch down dough then knead briefly to expel air.

Divide dough into 10 pieces. Form each piece of dough into a smooth ball.

Poke your thumb through the center of each ball to form hole at the center.

With the thumb in a hole, work around the perimeter shaping the bagel like a doughnut.

1Place bagel into a lightly floured baking sheet. Cover lightly and let it rise for 20 minutes.

1Put the 6 cups of water, sugar and baking soda into saucepan and heat to boiling.

1Drops bagels one at a time into the boiling water mixture (about 5 pieces per batch). Cook for 2 to 3 minutes.

1Lift out bagels and drain briefly. Put drained bagels on to the baking sheet.

1Brush bagels with egg wash. Bake preheated oven to 400⁰F oven for about 25 to 30 minutes or until crusty. Cool.

1Assemble: Slice bagel in half, spread mayonnaise on the bottom halve of the bagel, then, arrange the, greens, bacon, tomato slice, and poached egg. Then spread tomato catsup on the top halve of the bagel then place top halves of the bagel on top. Serve.
Recipe Notes
Yield: 8 – 10 pieces (70 grams dough weight per piece)