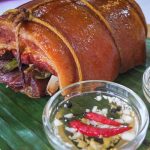 Bellychon
Ingredients
2.5-3

kilos

pork belly slab

2-3

stalks

lemon grass

(as needed)

3-4

stalks

onion leeks,

(as needed)

3-4

stalks

celery

(as needed)

12

cloves

garlic

(as needed)

2-3

tablespoon

Rock salt

atsuete oil for basting
Instructions
Pre-heat oven to 300⁰F/150⁰C.

Wash pork slab and trim excess meat and fat from the sides.

Rub the whole pork belly with rock salt.

Arrange the lemon grass, leeks, celery, and garlic at the center of the meat.

Roll up the pork slab (not overlapping the sides of the meat) to form a roulade or a cylindrical shape, making sure that the stuffing is in the center.

Tie the pork roulade with twine or string to keep its shape.

Place the prepared pork in a rack oven pan and place it in the oven. Roast for 1- 1 ½ hours.

After 1 1/2 hours, remove the pan from the oven and brush the pork bellychon with atsuete oil, and put it back into the oven to roast for another 1 ½ hours, increasing the oven temperature to 392⁰F/200⁰C and basting it with atsuete oil every 30 minutes.

Remove the pan from the oven and remove the twine. Place the pork bellychon on a serving plater and serve with your choice of dip or "sawsawan".