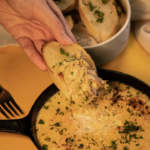 Barbecued Chicken Alfredo Dip
Ingredients
250

grams

chicken thigh fillet

Salt and pepper

4

cloves

garlic

minced

2

tablespoons

brown sugar

1/4

cup

barbecue marinade

store bought

1/4

cup

butter

2

tablespoons

oil

1

piece

medium-sized onion

finely chopped

2

tablespoons

MAYA All-Purpose Flour

1/2

cup

milk

1/2

cup

all-purpose cream

1/4

cup

quick melting cheese

grated

1/4

cup

cheddar cheese

grated

1/4

cup

mozzarella cheese

grated

1/4

cup

parmesan cheese

grated
Instructions
Place chicken thigh fillet in a medium-sized bowl and season with salt and pepper. Add garlic and brown sugar, then gently massage the seasoned chicken thigh fillet. Add barbecue marinade and gently massage into the fillet. Set aside and let it marinate for at least 2 hours.

Pan grill marinated chicken. Set aside and let it cool for 5 minutes. Shred and set aside.

In a medium-sized cast iron pan, heat up butter and oil over medium heat. Sauté onion until aromatic.

Add flour and stir until flour is cooked.

Pour in milk and all-purpose cream and continue stirring until the milk mixture is well combined and the sauce thickens.

Add all the cheeses and stir constantly until all the cheeses melt. Add the shredded chicken barbecue and mix well. Turn off heat.

Put the barbecued chicken alfredo dip inside a preheated 400⁰F/204⁰C oven and let the surface turn bubbly and lightly brown.

Remove from the oven and serve with your choice of chips or toasted breads.
Recipe Notes
Yield: 5-6 servings