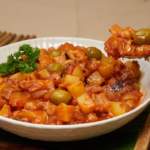 Bacalao ala Vizcaina
Ingredients
300-400

grams

salted bacalao

or dried lapu², talakitok or labahita

3

tablespoons

olive oil

2

tablespoons

minced garlic

2

pieces

onions

chopped

2

pieces

tomatoes

chopped

5

pieces

small potatoes

diced

2

teaspoons

sweet paprika

½

cup

boiled fish water

1

cup

tomato sauce

1

pimiento in small can

chopped

1

piece

medium-sized red bell peppers

diced

1

piece

medium-sized green bell peppers

diced

½

cup

green olives

1

chickpeas in can

400g, drained and peeled

Salt and pepper to taste
Instructions
Soak the fish in water for 1-2 days changing the water every 6-8 hours. After a day of soaking, get a small portion of the fish, pat dry and pan fry to check for the saltiness. If it still too salty, continue soaking the fish in water for another day and continue changing the water every 6-8 hours.

Get the soaked "bacalao" rinse well with water and drain. Cut the fish into pieces or flaked the fish then cook in enough water until tender. Drain and set aside the cooked fish and the boiled fish water for later use.

In a skillet, heat oil then pan sauté the garlic, onions, and tomatoes until tender.

Add in the chopped potatoes, paprika and continue cooking until potatoes are half-cooked then pour in the fish water and tomato sauce. Bring to a boil then simmer for 5 minutes and stir from time to time.

Place the cooked "bacalao", pimientos, bell peppers, olives, and garbanzos. Continue cooking in a simmering stage for another 10 minutes.

Season with salt and pepper (Check the saltiness of the dish before seasoning it with salt).

Serve warm.
Recipe Notes
Prep time: 10 to 15 minutes (excluding the soaking of fish for 2 days)
Cooking Time: 20 minutes
Yield: 6-8 servings