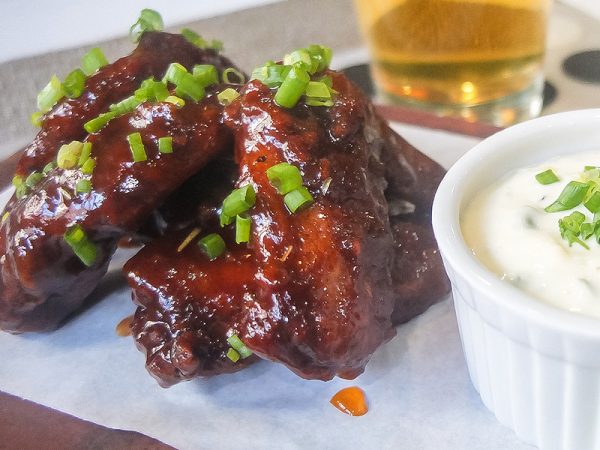 | | |
| --- | --- |
| | |
In a clean bowl, mix flour, cornstarch, paprika, a pinch or two of salt and pepper. Mix well. Set aside.

In another bowl, whisk together beer, lemon juice, olive oil, Italian seasoning, garlic powder salt and pepper. Mix well.

Marinate chicken wings on the beer marinade for 30 to 45 minutes. Drain marinade.

Transfer marinated chicken into the bowl with prepared flour mixture and dredge the chicken well with flour mixture.

Heat oil in a medium pot (to know if the oil is ready for frying, pinch a flour and put it in oil, if the flour creates bubbles, the oil is ready for frying).

Fry the coated chicken for 5 minutes or until brown. Transfer the fried chicken into a colander with paper towel to remove excess oil. Set aside
In a clean bowl, mix all ingredients: tomato sauce, brown sugar, cayenne pepper, Italian seasoning, barbecue sauce, tabasco, vinegar, banana catsup, melted butter. Mix well.

In a sauce pan, transfer the buffalo sauce mixture and let it simmer for 2 to 3 minutes. Let it cool for 5 minutes.
Toss the fried chicken wings into the bowl with prepared buffalo glaze until all chicken wings are covered with glaze. Best serve with ranch dip.