L'Aubergine's Chef Julian Koeberl at The Maya Kitchen Culinary Elite Series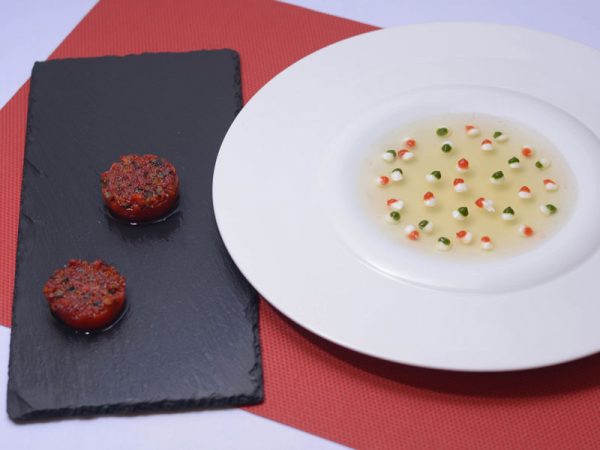 | | |
| --- | --- |
| | |
Pour the tomatoes, salt, sugar and the tabasco in a blender and blend for 1 minute.

Strain blended tomatoes using paper towel or cheesecloth to get a clear golden color of tomato water.

Reserve the solid tomatoes for the tomato coulis.
Soak the gelatin in cold tomato water. Set aside.

Heat-up a small amount of the tomato water. Once hot, dissolve the gelatin.

Blend in together the remaining tomato water and the gelatin mix tomato water and season with salt, sugar and tabasco.

Stir and pour in molds or cups. Place in the chiller to set.
Heat up mozzarella water with cornstarch until thick and transparent.

Strain using a tamis or drum sieve (strainer), set and chill.
Blanch basil and soak in an ice bath and strain.

Put basil and oil in a blender to emulsify and puree. Chill.
Season tomato puree with vinegar, salt, tabasco and sugar.

Add tomato water to smoothen puree then emulsify with olive oil. Strain then chill.
Blanch the scored tomatoes in boiling salted water then soak in ice bath.

Peel and seed the tomatoes.

Arrange the peeled and seeded tomatoes on a lightly greased tray, top each with a slice of garlic and thyme.

Brush each tomato with oil and season with salt, dehydrate in the oven using low temperature until slightly chewy.
Mix tomato confit and black olives together in a bowl and season with salt. Set Aside.

Season sliced tomatoes with salt, pepper, olive oil and vinegar. Set Aside.
Dot mozzarella cream in circles on the tomato jelly alternately with dots of tomato coulis and basil puree. Chill before serving.

Place a tomato slice on a serving dish and arrange thinly a layer of tomato confit oil on top of each sliced tomato drizzle with olive oil-vinegar mixture.

Garnish with chopped basil.