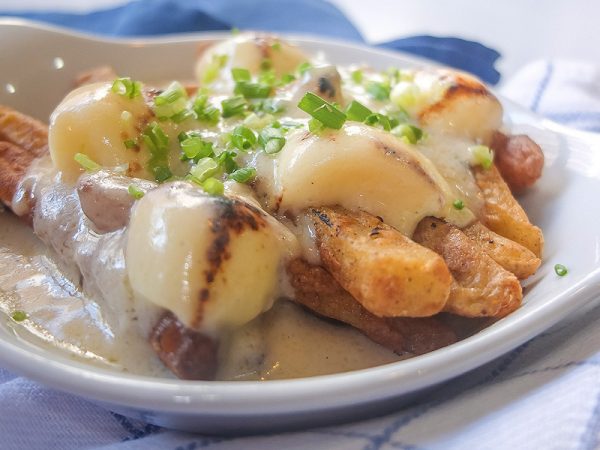 | | |
| --- | --- |
| | |
Wash potato to remove dirt and soil. Cut it into thick fries and soak cut potatoes in a brine solution (water and salt solution) for 1 to 2 hours.

Drain brine solution and pat dry the cut potatoes using paper towel. Let it dry and set aside.

In another bowl, mix flour, cornstarch, onion powder, garlic powder, paprika, salt and pepper. Mix well.

Heat oil in a medium pot.

Dredge cut potatoes with the flour mixture, and then dip it in the cold water, and coat again with flour mixture.

Deep fry the cut potatoes until brown. Set aside.
In a small pot, melt butter, and then add flour and mix well until there are no lumps. Add beef cubes and soy sauce.

Add fresh milk and water, whisk until the gravy mixture thickens. Add salt and pepper to taste. Set aside.
Assemble freshly cooked French fries in a clean plate, creating a bed of fries.

Top it with cubed mozzarella and pour in the hot gravy enough to melt the mozzarella cheese.