L'Aubergine's Chef Julian Koeberl at The Maya Kitchen Culinary Elite Series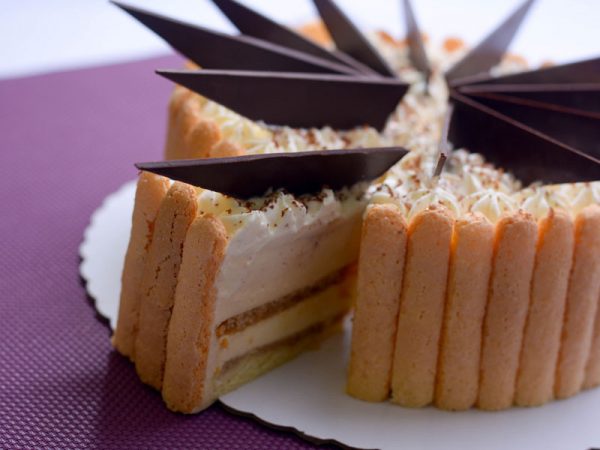 | | |
| --- | --- |
| | |
Whip egg yolks until ribbon stage.

Whip up egg whites to soft peak.

Add sugar slowly and whip to medium peak.

Fold 1/3 of the egg white with few egg yolks mixture alternately with the dry ingredients (cornstarch and all-purpose flour).

Prepare piping bag with #4 size tip. Fill up with the beaten egg white mixture and pipe out on wax paper to about 10 cm long.

Sift powder sugar on top of the lady finger and bake for 15-20 minutes.
Bloom gelatin in ice water and dissolve on hot water bath.

Mix together milk, egg yolks and sugar in a bowl. Stir well to combine. Bring milk to a bowl and pour into the egg yolk mixture.

Pour back into the pan and continue cooking over low heat until slightly thick or the mixture coat the back of the spoon.

Add dissolved gelatin and vanilla extract. Strain mixture through fine chinois (conical sieve), cool over ice bath and add whipped heavy cream and rum. Fold into the mixture.
Arrange one layer of the cream on a prepared sponge cake alternate with rum and coffee soaked lady fingers and cream. Chill until set.

Garnish with chocolate, almond flakes.