From the article "Everyday Easter"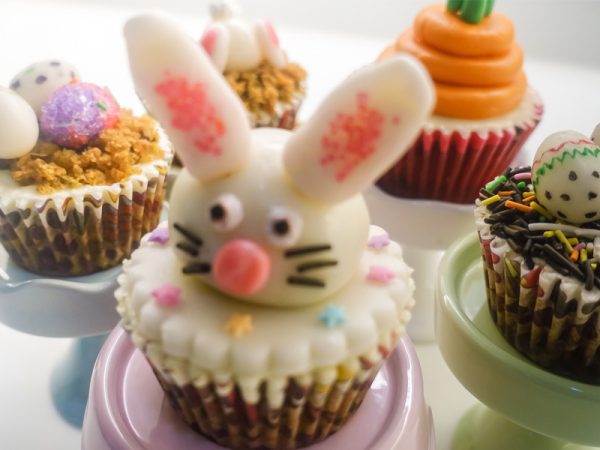 | | |
| --- | --- |
| | |
Preheat oven to 350°F/177°C. Line a 3-ounce muffin pan with cupcake liners.

In a bowl, whisk in egg then add the oil and pineapple juice. Mix together.

Add grated carrots and mix using a wooden spoon.

Fold in crushed pineapple, chopped raisins and chopped walnuts. Mix until well blended.

Using a scooper, transfer batter mixture into cupcake pan until ¾ filled.

Bake for 30 to 35 minutes or until toothpick inserted in center comes out clean.

Cool completely before frosting.
Cream together butter and cream cheese.

Add sugar little by little.

Continue beating until smooth.

Refrigerate until ready to use.
Put marshmallows into a thick glass bowl. Add water. Microwave at medium high for about 2 minutes, stopping and stirring at 1 minute interval until smooth in consistency.

Take the bowl out of the microwave and let it cool a little.

Mix in shortening and confectioner's sugar alternately until it leaves the bowl.

Transfer your fondant to your greased work surface and gradually add the remaining sugar if the fondant seems too soft. Knead until it is no longer sticky.

Shape into a mound and coat lightly with shortening. Wrap tightly with cling wrap and place in a ziplock bag.

Rest for at least 12 hours.

Mold into desired toppers: Easter Egg, Easter Bunny, etc.