Korean Online Cooking Class II
Bibimbap and 1 Banchan Recipe

Learn how to cook authentic Korean dishes featured in your favorite K-dramas and loved by your K-pop biases!The Maya Kitchen online workshop teaches you how to make bibimbap—the popular Korean dish of mixed rice topped with meat and vegetables—from the comfort of your own kitchen.What's more, you'll also learn how to make banchan or Korean side dishes that'll nicely pair with your main!Free on FB Live!

Ingredients:
BIBIMBAP
Chili Paste Sauce:
Korean chili paste (gochujang)

Korean chili flakes (gochujaru)

sesame oil

rice vinegar

brewed soy sauce

brown sugar

corn syrup

toasted sesame seeds
beef, thinly sliced

garlic, grated or minced

brewed soy sauce

prepared chili paste sauce

olive oil or sesame oil, as needed for stir-frying

Fresh or dried shitake mushrooms, sliced

medium-sized carrot, julienned cut

medium-sized onion, sliced

Korean or Japanese cucumber, sliced

beansprouts

blanched spinach

salt and pepper, to taste

cooked egg, as needed (sunny side-up)

enough cooked  rice(short grain)
MYEOLCHI BOKKEUM (STIR FRIED ANCHOVIES)
anchovies/dilis (myeolchi)

Korean chili paste (gochujang)

chili flakes (gochujaru)

garlic, grated or minced

soy sauce

warm water

corn syrup (oligo)

cooking oil

brown sugar

toasted sesame seeds

green chilies, sliced diagonally (optional)
SUBSTITUTION of some ingredients:
Korean chili paste (gochujang) – sriracha
Korean chili flakes (gochujaru) – chili powder
rice vinegar – local vinegar
brewed soy sauce – local soy sauce
brown sugar – white sugar, muscovado powder
corn syrup – honey or maple syrup or plain syrup( water and sugar)
beef, thinly sliced – chicken, pork ground or sliced
Fresh or dried shitake mushrooms – enoki mushrooms, Portobello, crimi or porcini
Korean or Japanese cucumber – local cucumber
Beansprouts – microgreen (sunflower sprouts)
blanched spinach – chinese spinach or kangkong
green chilies – bird's eye chili or siling labuyo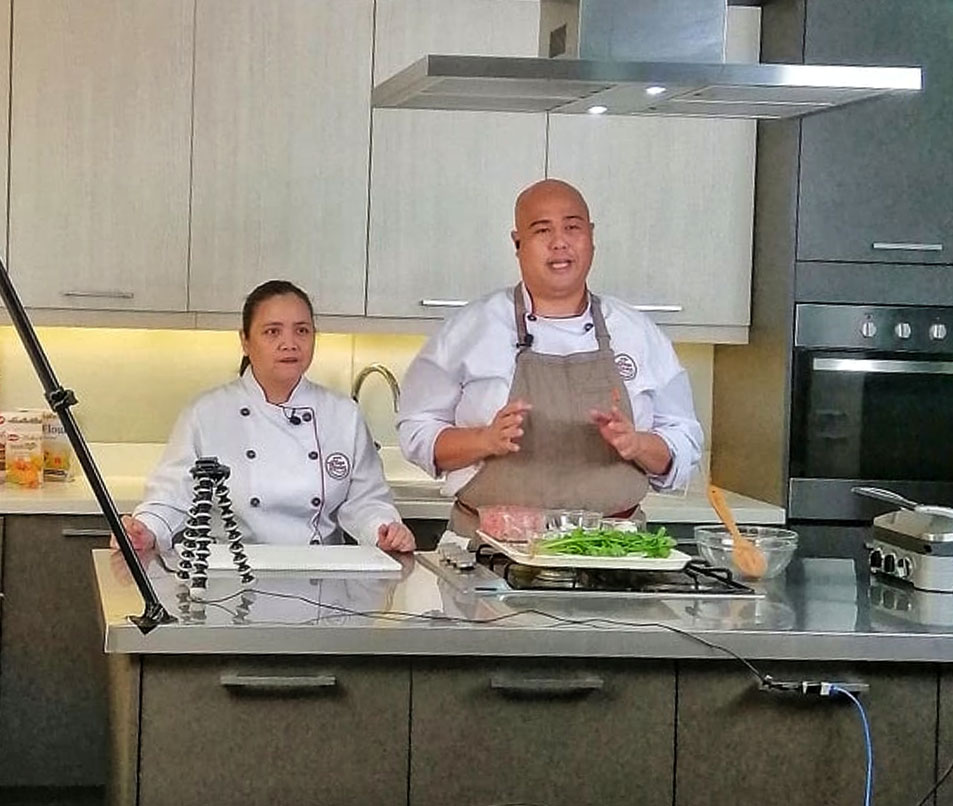 Our Chef Instructors
Chef Charina Cano and Chef Dan Wilford B. Libunao are both Maya
Kitchen in-house Culinary Instructors.
Chef Charina "Cha" is the Maya Kitchen Supervisor, and she's been with
Maya Kitchen for almost 14 years now in which she handles various
Culinary classes, specifically the Maya Kitchen's Cooking Class and
Culinary Certificate Classes.
Chef Dan on the other hand also teaches Culinary Certificate Classes and
also assist and teach some Baking and cooking class.
How It Works
After you register and pay for our live and interactive digital class, we will send you the course outline, a recipe card, and preparation sheet (complete with shopping list, equipment needed and set-up tips), so you can be ready to go when you log into the session via Zoom.
During the class, our chefs will walk you through the recipe steps and cook along with you, answering any questions you may have.
Whether you're on your own, coming as a pair, or are part of a bigger group, we've got you covered. Our classes cost are designed per household/device so if you want to work as a team, that's fine by us. If you're taking part with friends or family who live elsewhere, each household will need to book a place on the class.
Families are welcome to take part, but please be aware that these classes are designed with adults (unless specified otherwise) in mind. An adult must be present if anyone under the age of 18 is joining in.
Note: Payment becomes non-refundable once you have received the course outline, recipes, and shopping list which will be sent to you 2 days before the class.